Provider Profiles
Carmichael's Home Medical Equipment
This Georgia-based provider embraces a balance of retail and reimbursement
Less than 50 miles outside of Atlanta, Ga., in the town of Monroe, optimism is flourishing when it comes to the home medical equipment (HME) business. Tucked in the Alcovy River Basin between Georgia's metropolis and the Victorian/hip city of Athens, Monroe is an area of antebellum mansions, handsome old government buildings and an historic downtown. Some 13,234 people call it home, as does Carmichael's; a three-pronged business that includes a pharmacy, HME and a Hallmark store.
The pharmacy dates back to 1903, when tonics and potions were the staples. The Hallmark store and the HME segment are later additions. Indeed, Carmichael's Home Medical Equipment opened only six years ago, just about the time the Medicare competitive bidding axe was being sharpened and reimbursements for oxygen and mobility products were headed for the chopping block.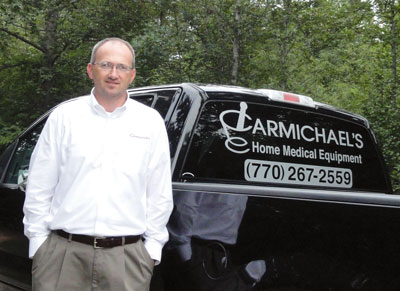 It wasn't an opportune time to open an HME store. But there was this need, you see, and Carmichael's has built its reputation on fulfilling needs. Indeed, if you ask Bill Cheek—who, along with owner Greg Hickman, opened Carmichael's Home Medical Equipment—about the folly of starting an HME business when it seemed that the industry was about to destruct, he would tell you it's not so much about the equipment as it is about the patients. "If you're just in it from a business standpoint, I don't know that it's something you want to be in," says Cheek, a respiratory therapist (RT). "It's about the people, really."
Cheek is not oblivious to the need for a strong bottom line. He knows about the pitfalls of competitive bidding—Monroe is, after all, in Round 2 of the program—and he has had to grapple with debilitating audits and declining reimbursement. He is convinced, however, that if you take care of your customers and fill their needs, you'll be successful.
So far, that business model is paying off for Carmichael's. Even as Round 2 of competitive bidding looms, the company has opened a second location 20 miles away in Covington and it has just signed the lease for another store in Winder, some 15 miles distant.